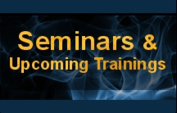 Take a look at what Elvis Lester and ExecuLearn® Studios are up to and what wonderful opportunities to get involved, participate and Explore You!
---
Come join Elvis Lester and the ExecuLearn® team at an upcoming seminar, online event or custom training program at our fully equipped
ExecuLearn MindFirst Studios.
We invite you to get involved and join in the fun! Preview our events and register for a seminar just below or request a registration packet for programs that are of interest to you. We welcome your participation and look forward to meeting you at a live training.
All trainings listed below are conducted by Elvis Lester personally. Contact Elvis and discuss your interest in the programs. He will personally handle your training registration and answer any questions you may have about fit and function and how to tailor your experience for maximum achievement and FUN!
Phone 813-221-5466 or email Elvis Lester direct to discuss your interests in his programs. Elvis will conduct a mini-interview with you to identify your needs and interests and "fit" for the right seminar.
CEU Provider Information - Click here!
---
Types of ExecuLearn® Programs and Events by Elvis Lester
LIVE NLP, HYPNOSIS & NEUROCISE SEMINAR EVENTS

View ExecuLearn.com and Elvis Lester's Event Schedule

View ETC™ Online Schedule of Events (Hosted by WebEx: Live events hosted by Elvis Lester.

Also available from Elvis Lester & ExecuLearn® Studios

Recordings of Live, In-Studio and Online Streaming Events
ScreenCasts and Media Clips of Technics
Individual Training and Consultations
In-House and On-Site Training
---